Nabeel Ashjan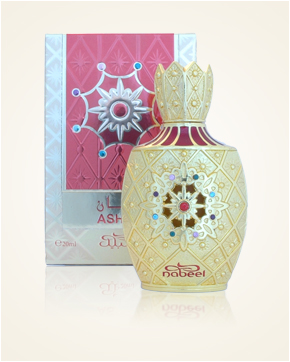 Nabeel Ashjan
Concentrated Perfume Oil 20 ml
Out Of Stock
Concentrated Perfume Oil Sample 0.5 ml
Out Of Stock
Description
The grandeur of all kinds of scents of the Orient is hidden in this ornate bottle of heavy gilded metal.
The introduction includes the intensive onset of spices, with warm cinnamon, cloves and spicy nutmeg with nostalgic tones of delicate carnation. Juicy oranges and lemons are added, followed by other smoothed citrus-like bergamot tones in a splendid combination with jasmine and strange cedar twigs - green needles.
In this next phase of the fragrant grandeur of the perfume, we immerse ourselves in the oriental notes of earthy patchouli in which the sandalwood is heated with a floral intoxication of roses and geranium. Incense unleashes its magic-enhanced mighty scent of mystery, in harmony with labdanem, warm earthy opoponax and gentle gourmet vanilla, which will gourmet in the fluff of tender musk.
Mystic-filled echoes of rare oud oil are accompanied by velvety ambergris and warm animal note of skin.
The combination of the ingredients, their intricacy and variety, creates a luxurious, interestingly toned scent that is very strong and long lasting.

Customer Reviews (2)
Dear Mrs. Wech, thank you very much for your advice on fragrance, Ashjan - this is olfactory nirvana. :) And today's samples caused one more order. :-) Let me have a few impressions of purchased fragrances: Ashjan - in my many years of mapping perfumes in general, and incense in particular, I got a tip on Ashjan and ordered blind. So it's not an incense solitaire, which I've been told, but it's incredible splendor. Narcotic, distinctive, literally nectar from Olympus. When spices, everything, when flowers and fruits, everything is available. Result? Perfectly tuned, intertwined, complements. In the end there is nothing and nothing is missing. Strong spice dissolves in a bath of flowers and fruits, I can clearly perceive carnation and hyacinth, sweet peaches. It is not sweetened, it is smoothed by quite fine chypre trace. After a few hours, it settles into its last phase, where it softens slightly with a creamy tinge. He would keep that look for a few more hours. Jewel. (12/13/2016 - Simona J.)

Hello, Mrs. Lenko, I would like to thank you very much for the prompt processing of my order and also attach the initial impressions of the Ashjan perfume. Since I ordered without trying, I was also prepared for the possibility that the smell would not be my cup of coffee. So I approached the perfume with caution and respect. But again I am pleasantly surprised and excited. Perfume is beautiful from the very beginning. Over time, it then unfolds into something very similar to another beautiful fragrance, namely to Reyaam from Afnan. Ashjan, however, thanks to its rich composition, adds other fragrance ingredients that elegantly complement everything that contains Reyaam and elevate it to the TOP VIP fragrance group. And beware - at a very reasonable price! From the morning I enjoy Ashjan to the full and praise for a beautiful scented office came from colleagues. :-) Have a nice day (5.8.2016 - Lenka M.)

Have you tried one of our perfumes?
Let us know
how you like it!
You might also like