Arabisk Oud Ward Al Sheikha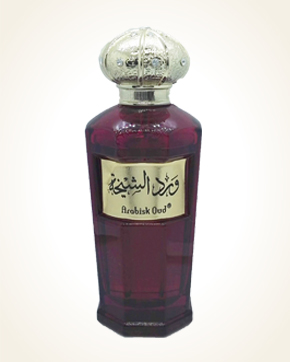 Arabisk Oud Ward Al Sheikha
Eau de Parfum 100 ml
Out Of Stock
Eau de Parfum Sample 1 ml
In Stock
Description
Ward Al Sheikha presents a sweet pink garden in a feathery captivity of a seductive musk, with a soft echo in the woods.
Beds full of roses and a velvety soothing and headyly puffy cloud floating above them, blending their magnificence with whipped cream, complemented by gourmet-sounding vanilla.
Gourmet chords continue intoxication of white chocolate with shavings of bitter-sweet almonds, which is dusted with a pinch of cocoa and garnished with juices of juicy citrus.

Customer Reviews (1)
Arabisk Oud Ward Al Sheikha is another beautiful fragrance, for me and this absolutely harmonious :-) Roses, cream, vanilla, citrus .... it all "plays" and creates an unobtrusive, fragrant cloud. Have a nice time (7/11/2018 - Renata K.)

Have you tried one of our perfumes?
Let us know
how you like it!
You might also like