Al Rehab Soft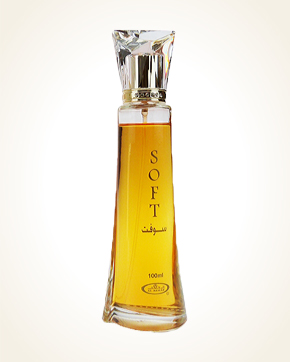 Al Rehab Soft
Eau de Parfum 100 ml
Out Of Stock
Eau de Parfum Sample 1 ml
In Stock
Description
A very popular fragrance Soft, you can now enjoy the Eau de Parfum.
Orange flowers, along with chocolate full of bitter roasted almonds in this tenderly flowing perfume, will tie you up and, like a delicate cobweb, interweave a lemon tinge with vanilla. It will take you to perfume dreaming and will not let go.

Customer Reviews (2)
Hello, I'm on vanilla-chocolate-caramel smell :-). However, I'm totally excited about the Soft perfume, I have been using the oil version for several years now, and I wanted to order a friend for my birthday today - but once I saw it in perfume water, I couldn't resist and I had to take one for me and one for her. -) - so thank you very much for a nice surprise and have a nice day :-). (04/09/2019 - Kristýna P.)

Al Rehab - Soft perfume water in my basket !!! And two flasks, because I believe it will be a great gift for my mother's birthday !! I am happy that I can buy a classic perfume with the oil !! This is perhaps one of the most beautiful scents I've ever had !!! Sweet, warm ... gorgeous! At first protrudes citrus, but after a while softens and comes to the surface vanilla and sweetness smell in all its beauty It is not sticky sweetness, but still very intense and beautiful !! I can't get enough of her !!!! (7/13/2019 - Petra N.)

Have you tried one of our perfumes?
Let us know
how you like it!
You might also like