Al Rehab Musk Makkah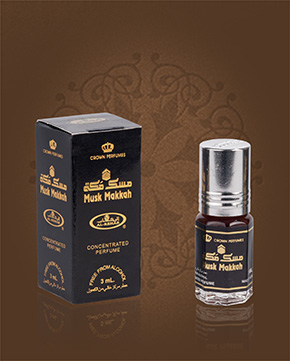 Al Rehab Musk Makkah
Concentrated Perfume Oil 3 ml
Out Of Stock
Description
A pocket pack of oriental perfume, the big advantage of which is the small size (3 ml of perfume) so that it fits even the smallest handbag or pocket. In addition, perfume is very easy to apply using a ball in the bottle cap. So you can always have your favorite fragrance with you.
The aroma conceals the true and intensely stroking oriental tone, with all-embracing tones of oud oil, ambergris and spices.
The perfume color is dark dark, but its fragrance is softly oriental.
Oud essential oil with its nuances ranging from sweet, leathery, warm woody to the intense aroma of the forest is directly offered to combine with other keys in soft ambergris or overripe and dense sweet fruit. All this intense embrace is combined with the full aroma of roses and an oriental marketplace with a wealth of spices.

Customer Reviews (4)
Musk Makkah - I did not believe that the smell (according to reviews) may like. My first contact with her - startle! The power! Literally the blow of the Orient. But - after about ten minutes - a huge turnaround! Glory, splendor! I'm surprised what this fragrance can do. It's not the honeymoon every other has. In this fragrance is maturity and thoughtfulness. And sophistication. It smells of leather, wood, sweet fruit, oriental spices and the smell of rose. It is a strange and beautiful fragrance. At first I thought that I probably wouldn't wear it, it would probably end up in an aroma lamp, but I would love to wear it. (8/18/2014 - Jiřina K.)

Al Rehab Musk Makkah - magical, magical scent! A scent that conjures without exaggeration. It changes throughout the day or night. She is both sweet and bitter at the same time, she is soft, sweet and affectionate. Warm and cool, fragrance day and night, winter or hot summer days. The fragrance with excellent stamina - 6 hours after application has turned into something so incredibly intoxicating that I'm a whole paf of it! In one word "magic"! Don't worry about it - it is addictive, it will pamper you and love you! (7/30/2014 - Lenka M.)

I got a magnificent fragrance from Al Rehab cpo Musk Makkah and I totally fooled me - I came across a very hilarious Arab - typically tuned, comparable to the workshop of the famous House. An unusual combination of oud, ambergris, black musk with crushed apricots, also shredded pencils and leather school bag made of cedar, myrrh similar to J'ai fait un rêve pour elle - clair by M. Bekkali. roses and dried and roses with peony and everything ends with aldehyde and a drop and vanilla finish, which together with musk ensure a beautiful stamina and beautiful stretch. Musk Makkah's aroma is animal-like, perhaps erotically, floral-fruity, with overripe fruit flowing down our chin. The scent eventually turns out to be an unusually attractive scent. I also see a kind of mini-association with Vengeance Extrème from the point of view of not being spared by some obscenity at Vengeance Extrème (Juliette Has a Gun) or Noir de Noir (Tom Ford). Musk Makkah doesn't save her either. Musk Makkah is a fragrance where I can calmly say "for little money, a lot of music". (25/07/2014 - Sylva F.)

Musk Makkah (Al Rehab) cpo is a very beautiful and charming fragrance that combines ground cypress sprigs with oud, peony and roses. Significant cpo has excellent durability, in the end turns into slightly aldehyde form. (02/03/2014 - Simona J.)

Have you tried one of our perfumes?
Let us know
how you like it!
You might also like