Al Haramain Etoiles Gold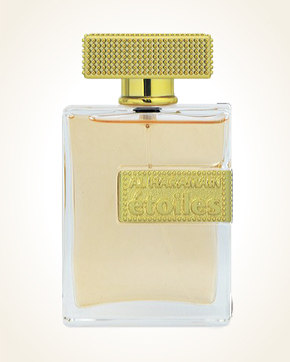 Al Haramain Etoiles Gold
Eau de Parfum 100 ml
In Stock
Eau de Parfum Sample 1 ml
In Stock
Description
A delicate bouquet of white flowers lures you into its fragrant gill - enter and be seduced by elegance and refinement.
The dazzling composition is played by sweet gardenias with a snow-white tenderness of jasmine, to which bitter oranges decorated with seductive orange flowers are creeping.
The perfect interplay of gourmet tones of delicious raspberries and gourmet honey gives the impression of a sinful symphony that makes it more and more fragrant.
The conclusion belongs to the bottomless depths, which adds earthy herbal, magic chypre abounding, patchouli.

Customer Reviews (3)
So I finally ordered Etoiles Gold 100ml, beautifully packed simply luxury :-) I'm excited, beautiful delicate scent.Thank you even for the presents.Good Christmas. (12/20/2019 - Marie Š.)

Etoiles Gold, so this smell is a complete bomb, very beautiful delicate, full of delicate flowers exactly my styl.Tak this one has a shoe :-) I will definitely buy it :-) (29.8.2019 - Marie Š.)

Hello, thank you for the magically fragrant package. Etoiles Gold has an incredibly beautiful package and an incredibly tempting scent. It is sweet but not sweet and the fruit is just right. It reminds me a bit of my favorite Aurum oil. Both are amazing. Etoiles Gold captivated me with a floral bouquet. Aurum has more luxury Etoiles goes through the path of elegance, it feels good to the surroundings, I have already received a compliment even from a colleague at lunch :-D :-D and a colleague at the office :-) Thank you for nice gifts. I will look forward again (23.8.2019 - Petra N.)

Have you tried one of our perfumes?
Let us know
how you like it!
You might also like