Al Haramain Classic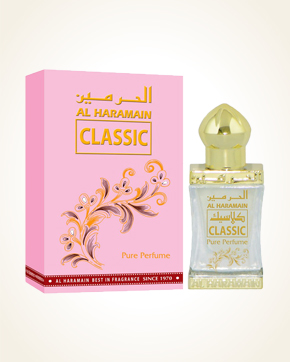 Al Haramain Classic
Concentrated Perfume Oil 12 ml
Out Of Stock
Concentrated Perfume Oil Sample 0.5 ml
Out Of Stock
Description
Creamy Ylang - Ylang with a delicate rose in a jasmine embrace stretches into a gently bergamoted freshness. Mango plums are added, which are complemented by woody tones.
The warm echoes of sandalwood and cedar dissolve their woody sensual chords in a delicious, vanilla flood that heads its seduction into the clouds of fluffy musk.

Customer Reviews (1)
Today I got a sample of this beautiful fragrance and I immediately fell in love, that's something so beautiful and warm, I have it on my neck and wrist and I just suck in the beauty and can't get it, so I had to send another order immediately because this fragrance it is simply a miracle, it does not matter that it is raining outside, the soul rejoices in the splendor and not knowing anything else. Also other news, such as Baha, are amazing and I ordered it for my husband. I can't describe the smells as beautifully as some of the other women I thank for their amazing reviews, which have often helped me decide on some fragrance, I also thank Mrs. Jana for her kind and helpful attitude, thank you to Lenka for getting this splendor and in this way she sheds light on our everyday days and thank both ladies of Anabis for the beautiful gifts that bring so much joy and gratitude. My big thanks, you are a wonderful and extraordinary business with the most beautiful scents, without which I can no longer imagine my life, because they are addictive ❤Thank you ❤ (3/28/2018 - Helena K.)

Have you tried one of our perfumes?
Let us know
how you like it!
You might also like