Ajmal Vanille Celeste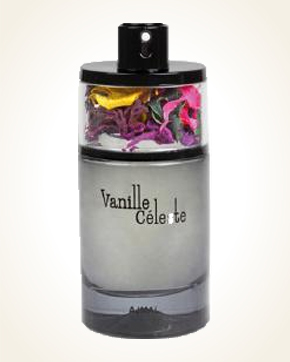 Ajmal Vanille Celeste
Eau de Parfum 75 ml
Out Of Stock
Eau de Parfum Sample 1 ml
Out Of Stock
Description
Gourmet feasts of vanilla invite you to all gillers and nooks. Let yourself be enchanted - a unique fragrance full of warmth, heat and fire - that's Vanille Celeste.
The combination of delicate beautiful orange flowers with rare orchids is accompanied by echoes of juicy pear nuances spreading in sandalwood waves.
Vanilla refinement is further accentuated by tonka, which resonates with it in unique chords of a warm delicious concert. The entry of gentle jasmine gently turns into the deepening tones presented by oud oil, which does not stand out, only completes the sensually elegant tone, especially vanilla.
White cedar, coffee with a few shavings of chocolate, comes together to give space again for solo vanilla. Vanilla floats through the different phases of the scent and shows us its tender, dusty, gourmet and deliciously seductive note.

Customer Reviews (2)
Hello, I would like to thank you for your beautiful fragrance. I'm absolutely blown away - as evidenced by the fact that 4 orders are not even in a month. And that I'm going to be a maniac into the fragrances when I always had one ... Vanille Celeste is a beautiful vanilla, but not the first to eat, but somehow elegantly vanilla. And Ishraq Gold and Taj Al Arab will probably be more catches because they are amazing! I like "edible" scents, but not in the first place, that you would bite your hand right away, but that there was "something". And these meet. So I will keep trying and keep going my account, because there are so many beautiful scents and I feel like I have to try and discover all the time ... Have a nice day in Anabis and thank you for the presents, you are a wonderful shop! (27/08/2019 - Lucie Ch.)

Vanille Céleste - I consider my best blind purchase! I just hope it will be back in store, because it disappeared as quickly as it appeared. It has everything I love - starting with Tonka, ending with vanilla. This gorgeous elegant fragrance is not one of the edible ones and thanks for that, because even though I love vanilla in all its forms and designs, it doesn't flatter me anymore: Hmmm, do you smell good, what the hell are you good? Vanille Céleste is Mrs. vanilla, a woman - a lady who knows exactly what she wants and how to do it. She has charisma, charm and a touch of nonchalance, she can confuse her head and go crazy. There's a little coquetry in it, but nothing cheap, we're talking about a lady! Krááása !!! Nothing spectacular and yet intriguing ... It is very delicate and when I think it is lost again it will unfold. I am happy to have it !!! And until it's in stock again, I'll just look at it and enjoy the fact that I have it. Must not occur !!! (12/20/2017 - Lenka S.)

Have you tried one of our perfumes?
Let us know
how you like it!
You might also like