Ajmal Freya Amor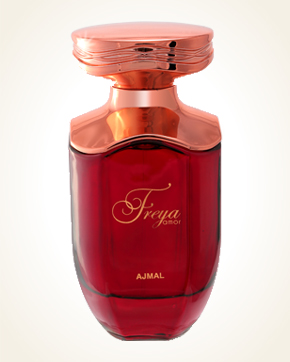 Ajmal Freya Amor
Eau de Parfum 100 ml
Out Of Stock
Eau de Parfum Sample 1 ml
Out Of Stock
Description
Deliciously fruity chords resound with exotic passion fruit with pineapple melon combined with delicate violet and sensual lilac flowers. Fruit tones also bring a slight echo of sweet mandarins, which are absorbed by oriental spices.
A playfully served cardamom clove gourmet vanilla into its embrace with spicy pepper and nutmeg. Smoothly aromatic cinnamon resonates with a woody footprint with cedar blending into creamy sandalwood.
Gourmet sweet vanilla also appears in other seductive waves, when it connects its velvety key with the softness of the musky clouds of musk.

Customer Reviews (1)
Dear ladies, first of all I would like to thank for the beautiful and unique fragrances. Ajmal Freya Amor 100 ml is really perfect to smell the scent of roses, spices, especially black pepper, fruit, especially pineapple. Beautiful, elegant fragrance, maximum satisfaction. I am testing the samples so far, but one of the following orders will definitely be Musk Abiyad. Thank you and have a nice day, (10.3.2019 - Klára K.)

Have you tried one of our perfumes?
Let us know
how you like it!
You might also like