Afnan Rare Tiffany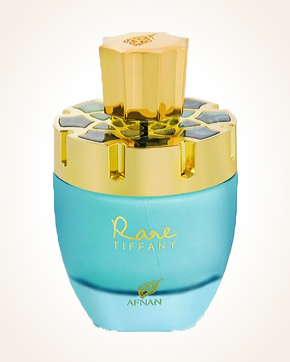 Afnan Rare Tiffany
Eau de Parfum 100 ml
In Stock
Eau de Parfum Sample 1 ml
In Stock
Description
Rare Tiffany, enter into the fragrance hidden in the turquoise flacon and be enchanted.
The composition is opened by citrus touches, chased by an exotic, sour-bitter litchi, which paves the way for a lavishly whipped, delicious-sounding raspberry sorbet adorned with ice crystals.
In the gourmet key, we continue to the sinfully showing salty caramel, which is made special by pink pepper and directly tempts for another scent.
Aria flowers and a few notes of creamy softness of sandalwood will sound into the gourmet scores. The chill of frosted lilies of the valley alternates with the refinement of the fragility of peonies with the elegance of its royal highness - the rose of Taif. The rose is captured by the star haze of sensual musk shades and together they form a charming, powdery line.

Customer Reviews (2)
Hello, thank you for the packages. Today came Rare Tiffany, I am enchanted, the power as it splendidly goes into space, and it packs with that flacon, so it really did. The smell welcomed me with fruit, but only so that it was not too much, then something spicy appears, maybe the salty key, and then oh - the wood and in the end seduces me with flowers, just plain tumor. Thank you for the nice gifts, roll-ons fit perfectly in my handbags, and the patterns still attract other purchases. You're a seriously addicting business and I'm glad to find you. Thank you (17.10.2019 - Eva S.)

Rare Tiffany, is a beautiful fresh, summer smell. After spraying on the skin, it is very intoxicating, it still forces me to smell the wrist, at this stage Tiffany is the best for me, then it changes, fades and softens. The stamina and intensity on me is neither great nor long. She wants to spray it more often. I prefer a stronger smell of different intensity. (8/20/2019 - Marie K.)

Have you tried one of our perfumes?
Let us know
how you like it!
You might also like