Afnan Modest Une Pour Homme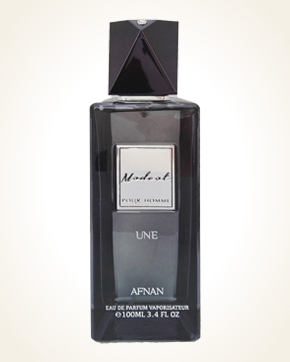 Afnan Modest Une Pour Homme
Eau de Parfum 100 ml
Out Of Stock
Eau de Parfum Sample 1 ml
Out Of Stock
Description
Modest Pour Homme - this is a pair of captivating men's scents, masterfully composed ingredients of perfumes from Afnan, it is also a visual experience of elegantly created perfume bottles with brilliant Swarovski crystal.
Modest Une Pour Homme is hidden in dark gray flacon. In brown you can find Modest Deux Pour Homme.
Une Pour Homme

The relaxed and airy, citrus-like fragrance combines with lavender tones and cool-sounding mint, the sparkle of which is complemented by eucalyptus.
The perfume keeps its fresh line also thanks to the spicy-sounding nutmeg with pepper, which is slowly complemented by rare woods and velvety chords of honey ambergris.
Somewhere in the distance there is a hint of earthiness and dry smoke, which gives us a vetiver that plays its tones along with the softly sweet cedar wood and the gentle touch of a softly inviting musk.

Customer Reviews (1)
Hello, I bought the scent of Modest Une Pour Homme as a birthday present to my son. The smell is in a beautiful gift box, she liked it very much and today my son told me that another customer asked him yesterday at the store what it is for the perfume brand that it smells so beautiful. And that it was the second time that a stranger asked him about the smell. So I am also glad that I chose well because I had more fragrances on the table and it is difficult to decide which one is right for the recipient. (7/1/2018 - Hana Ř.)

Have you tried one of our perfumes?
Let us know
how you like it!
You might also like