Afnan Modest Deux Pour Homme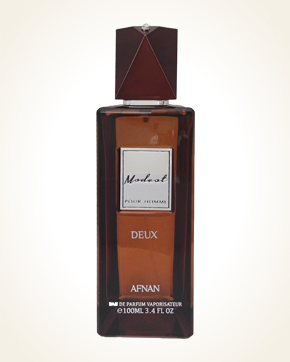 Afnan Modest Deux Pour Homme
Eau de Parfum 100 ml
Out Of Stock
Eau de Parfum Sample 1 ml
In Stock
Description
Modest Pour Homme - this is a pair of captivating men's scents, masterfully composed ingredients of perfumes from Afnan, it is also a visual experience of elegantly created perfume bottles with brilliant Swarovski crystal.
The brown flacon hides the Modest Deux Pour Homme and the dark gray you will find the Modest Une Pour Homme.
Modest Deux Pour Homme

Introduction includes contrasts in the form of delicate violet and luxuriously rendered, warm-flowing skin, which is combined with herbal-spiced patchouli.
Sandalwood amber is more and more immersed in the velvety, soft amber bed, with a juicy orange, holding a fresh pepper and a spicy nutmeg with caraway in a strong embrace.
The dark line shows up with a mysticism in a mysterious oud wood whose gentle notes are softened by the tender notes of a soft musk. In deep tones, we continue to earthy echoes of moss and vetiver.

Customer Reviews (1)
Modest deux pour Homme this morning I put the whole contents of the necklace on myself, noting that it was men's perfume ... at work my colleague tells me ... well, Jano, if you were a man, I will love you ... what do you smell so beautiful? ❤️ It pleased and I thank you again to Anabis, we will definitely order again ...: - D now she thinks that I have a long time evr.parfém ... (28/04/2018 - John C.)

Have you tried one of our perfumes?
Let us know
how you like it!