Anabis Adhara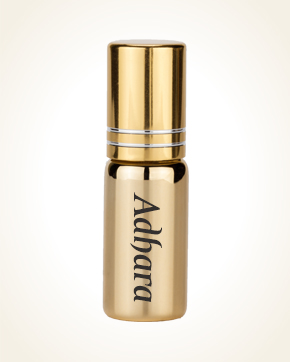 Anabis Adhara
Concentrated Perfume Oil 5 ml
Out Of Stock
Concentrated Perfume Oil Sample 0.5 ml
In Stock
Description
A pink tender kiss reveals for you the scent of Adhar.
Famous connection of the queen of flowers - fluffy Bulgarian rose with magnificent chords of a fussing musk, plays a seductive serenade.
A concert of juicy lemon tones with light echoes of a green apple rising from the slices of a Bulgarian rose turns its warp towards a fresh-sounding water spray, cold drops of shimmering dew. The fragrance thus acquires a heady sensual line that slowly changes to a powder stroke.

Customer Reviews (10)
But what intrigued me is another stone from Anabis .. Adhara! Beautiful rose, fresh dewy, in bloom, no Bulgarian oil, but perhaps even a girl's rose. It reminds me of Rose Essentielle by Bvlgari. Lychee Rose, on the other hand, is also interesting. The rose with vanilla candy and Lychee juice is also very nice, but the rose is no longer as important as Adhara. (06/25/2020 - Lada M.)

Good evening, Thank you very much for the samples, both are beautiful, but nothing surpasses my charm of Adhara from you. I'm already looking forward to ordering it next time. Don't have a slightly larger package? I'm enchanted by her;) Today I combined her with Fleur Narcotic .. a complete balm for the soul. Fleur still can feel the hair late in the evening and Adhara is radiating up my wrists and giving me a good night. Have a nice day, (17.06.2020 - Lada M.)

Hello, thank you for the package. Oh the beauty tender, rose fragrant, it is a gentle bud hidden behind a shower of water fountain, splendor !!! (5/9/2018 - Bára Ch.)

Hello, thank you again for the fragrant package with lightning speed. I will enjoy new scents and one better than the other. I was really curious about your anabis: -D and they are really interesting. Just so quickly I have to commend both Adhar, who overtakes Musk Abyiad and if I remember well with Anfas Al Ward. I don't need roses much, but here it is so beautifully bundled up in musk that it forces me to breathe deeply. Only next time I have to give even smaller dose, even though I just lightly rubbed my wrist :-D. Just beauty and the thick oil ... Hmm I can. I'll definitely order it. (05/05/2018 - Iveta W.)

Good evening, thank you for the package and gifts. Actually, I just used the days of free shipping and out of curiosity threw into the cart something smaller to try ... I had no idea what discovery, which I can not be without, again I make :-D Adhar ... rather than folding the perfume impressed me by is called a star. And the stars, I can :-) Name says "virgin". If so, you chose him really well. Adhara is a nice, non-conflicting virgin rose. I imagine it in the spring or summer sunny day, it brings me a feeling of carefree and well-being. Very nice. (19/11/2017 - Lucie K.)

Adhar ... a beautiful scent that got my guy ... did you buy Versace? DD No, enom Adhar ... it is really like Versace, but this is even finer and does not nip in the nose, as a European perfume. .2017 - Jana C.)

Adhara and Velvet musk are also musky beauties ... and they are, in my opinion, quite similar in the end. Initially, the Velvet Musk is fresher than the more dense Adhara. And then, as it develops and both settle on a wave of musk into a beautiful tender yet distinctive fragrance, Adhara smoothes his musk with roses and Velvet musk with a spicy tinge. Adhara is a seductive woman and Velvet musk is an attractive man ....: -) (10/07/2017 - Romana V.)

Adhara: A Rose of Arabic Theme that never gets tired: a lady's oriental rose. I would recommend it to those who have never smelled or want to smell Arab perfumes. The beauty of a rose with warm-blazing wood undermines the legs. It is red, large-flowered, full of sweet nectar, created by citrus aromas, and for intense enjoyment even dusted with a pinch of dark chocolate. (24.5.2017 - Katka - Breakfast in Perfumery)

Mrs. Lenka and Mrs. Janka have a nice evening. I order ADHARA, because her beautiful smell charmed me. Even at work there are often questions with what do you smell so nice? When I go to sleep, I also get a little scented. Thank you so much. (05/05/2017 - Marta P.)

Hello to Anabis, such a rose was last in Anfas, and now I tried to order a novelty and it worked. Adhara is a beautiful rose in burst, a bud in the morning, when the air cools and the dew glitters, but also warms the sun a little bit .... I can not write it like you or other clients, but I am enchantedáááá. Thank you for your quick delivery and other gifts. I have been shopping with you for years and still like. Happy birthday and everyone is happy, like me with the whole family :-) (26.4.2017 - Jana J.)

Have you tried one of our perfumes?
Let us know
how you like it!
You might also like