Abdul Samad Al Qurashi Safari Incense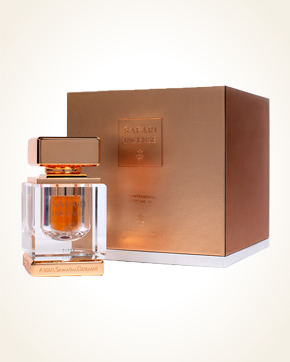 Abdul Samad Al Qurashi Safari Incense
Concentrated Perfume Oil 30 ml
Out Of Stock
Concentrated Perfume Oil Sample 0.5 ml
In Stock
Description
One of the most luxurious perfume houses in the world shows directly the mastery of perfume processing - and Safari Incense is one of the best things you can try from this company, what you can smell and see.
In a cardboard package of gold-copper color, hides a white lacquered cabinet and inside it behind clear vistas, there is a settled crystal flacon with an orange-gold top. The presentation of the fragrance can begin.
Safari Incense is a perfume dream whose dream gates open with mystic-embossed, bewitching radiance - oud oil and gourmet-sounding vanilla extract with a few drops of citrus juice. Orange mousse combines the deliciously candied tangerine peel and its juicy fruits.
Oud brings with it a sweetish smoke of smoking rare woods, a deep mystery - a fragrance full of contrasts, whose allure is enchanting.
The thick, dark color of indulgence, the hot caramel resonates with the honey reflections of the velvet ambergris and the soft creamy sandalwood to immerse in their chords the sensuality-filled musk.
Oil perfume design is very dense, oil after massage into the skin leaves a silky soft film on the skin, whose intensity of fragrance is perhaps endless ...

You might also like