Abdul Samad Al Qurashi Mandarin Musk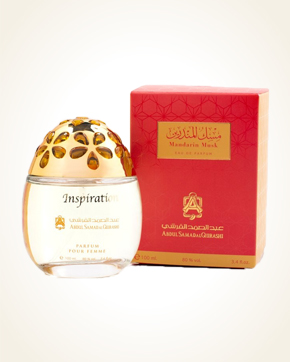 Abdul Samad Al Qurashi Mandarin Musk
Eau de Parfum 100 ml
In Stock
Eau de Parfum Sample 1 ml
In Stock
Description
Created by the hands of the most experienced perfume masters Abdul Samad Al Qurashi, the fragrance line of exclusive Inspiration perfumes reveals another of its treasures - Mandarin Musk.
The fruitful harmony of this perfume is a passion - intoxicating and indomitable seduction. The gourmet chords of mandarins play the introduction. Tangerines show a juicy line in which the keys of fruit lure, keys of twigs and green leaves, as well as keys of candied peel of these fruit are mixed.
With a light echo, it will show a softly smooth, precious tree species, in a unique harmony with the delicate beauty of orange roses, elevating their velvety tenderness to the flabby sensual nooks, the elegance of the musk.
In the final parade, the tones of rose tones with a cool vetiver, which is presented in earthly damp tones, are successfully seconded.

Customer Reviews (1)
Mandarin Musk - a very special smell, more of a European style. by Tom Ford - (Neroli Portofino). However, Mandarin Musk is further elaborated, becoming soft, feathery, cuddly, musky, yet expressive and intoxicating. (06/03/2019 - Zdena B.)

Have you tried one of our perfumes?
Let us know
how you like it!