Abdul Samad Al Qurashi Al Shamiyah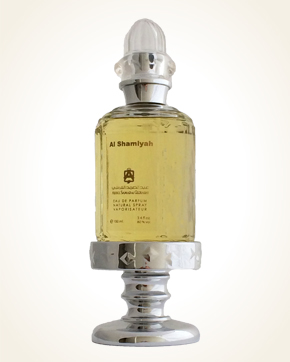 Abdul Samad Al Qurashi Al Shamiyah
Eau de Parfum 100 ml
Out Of Stock
Eau de Parfum Sample 1 ml
In Stock
Description
Introducing the green freshness balancing between the intoxicating soapiness and the haze of captivating flowers, it is playing a luxurious seduction game.
Fluffy composition binds with its line of uniquely stacked roses, which majesticly dominate the flower beds and easily let another flower chord into its embrace. We continue with the fragility of orange flowers combined with the scent of creamy ylang - ylang, the lily of the lilies and the white - blooming jasmine, which opens the way for the fluffy harmony of delicious, fruity foam. Mango and bergamot slowly spread into the gourmet winding of coconut water with caramel.
The brave concept of connecting fruit and soap echoes with patchouli gives the smell a shimmer of cheerfulness, but at the same time a feeling of soft purity with the echoes of a shy-looking musk, enriched with a light blend of cedar and sandalwood.
The end is a wave of herbal delicacy with a rare duo - saffron and nagarmothy, which together create a special oriental earthy aroma with dry spicy touches.

Customer Reviews (2)
So I already own this gem. Thank Mrs. Jane, for helping with the selection of this perfume, she just never is wrong, always guess exactly which smell I will like. I can not describe it, but it is naáááádherná :-D Take a lot of thanks for gifts and samples. I wish many enthusiastic customers and customers as I am.❤ (03/08/2018 - Helena K.)

Al Shamiyah-seductive fragrance, irritant, initially fresh, but turns into an earthy-dry to soap aroma.It is a very nice fragrance, again a little different than floral, keeps long and goes into space.I can smell it.Say for. (07/03/2018 - Zdena B.)

Have you tried one of our perfumes?
Let us know
how you like it!
You might also like