Al Haramain Naeem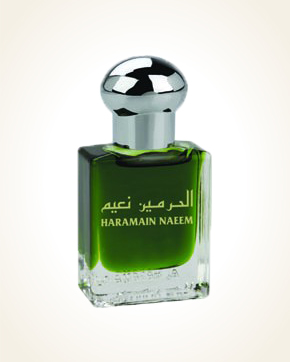 Al Haramain Naeem
Concentrated Perfume Oil 15 ml
Out Of Stock
Concentrated Perfume Oil Sample 0.5 ml
In Stock
Description
Pocket package of oriental perfume (15 ml CPO) in a bottle with a ball for easy application.
Pomelo, lime, bitter lemon peel along with oud oil is here to present chypre perfume with a hint of orient. Vetiver and bergamot further develop the freshness of this fragrance. Lightly sandalwood and the scent of dried grass are added to soften it. A hint of patchouli ends the composition.

Customer Reviews (8)
So this fragrance was ordered based on a review. Well, you can't even describe how unique your content is. Bring and energy. Thank you. (14/08/2020 - Dominika J.)

I'm sending a beautiful day to Brno! A beautiful day to all lovers of Arabic fragrances! Around 2014, I sent a praiseworthy review of Al Haramain Naeem, smelling the cleaning lady Kamila in our department. Since then, I have longed for a green miracle. She no longer cleans, but trains dogs. They will certainly recognize it by smell from a distance and listen perfectly. I have it at home for about a week and it's really luxury. It is incredible how much power a small vial hides. When applied to the skin it turns into splendor, purity, freshness and lasts incredibly long. I wouldn't even want to compare it to anything. It's just GREEN! (6/18/2018 - Helena B.)

... Recently it happened to me in the doctor's waiting room that an elderly lady told me how beautiful I smelled the whole waiting room. My reaction was - "I guess I overcame myself, sometimes I don't guess - I hope you don't mind" and she continued to melt - I was wearing Naeem this time. My grandmother was hyperactive and was still shuttling between the elevator and the seats. Then she stopped by me again and said, "Oh, my God - it smells at the elevator - but beauty!" And she smirked. I apologized again that I might have missed it, and she was melting away, how wonderful it was. And the people around were smiling. So a positive reaction. Although I do not desire such loud reactions. Well, at work I have to reduce the intensity of the scent :-) (12.5.2015 - Jiřina K.)

To perfume, I was at my mum today and gave me a scent to NAEEM and I have to say that it is beautiful, it is a very refreshing perfume oil with a good dose, but so beautifully bitter and fresh that I would rub with it all, it would be a bomb! and the color is magical, beautiful green. We have said that there are no more perfumes than we want from you. Nothing smells as beautiful as Arabs. (25/10/2014 - Jana Š.)

My cardiac cleaning lady uses Naeem oil. It is a luxury pomelous and citrus aroma. Also suitable now most for the summer. This fragrance should be given to every client as a presentation to her order, to understand that while she ordered well, but you need to pick further and you can come across gems, even if they do not have a luxury package in gold. Skvitostéééééééééééééééééééééé! (July 28, 2014 - Helena B.)

Naeem - this is the smell of summer morning. Freshness of morning dew, the smell of cut grass, the cool shadow of the forest! Sunday morning in the middle of the garden, a feeling of familiar peace, happiness and joy! (Jul 26, 2014 - Lenka M.)

From the production of 15ml cpo Al Haramain I did not know only Naeem, which I ordered blind Amaal. Such a distinctive scent literally got me to my knees and I just ordered one more package. Stamina and intensity is unprecedented. As soon as the oil is drunk into the skin, it settles and works for hours and hours, making it uncompromising the next day. The fragrance itself is combined unconventionally, but amazingly complex. Aldehyde feasts, bitter tones of lemon peel, lime and orange, the warmth and sweetness of burning sandalwood, a gently smoked hint of honey tell a long story that I don't want to have an end at all. And he hardly even has it. (11/16/2013 - Silmona J.)

Naeem, so it is irritated bristling fragrance, I have a sharp citrus, I still have to smell it and in combination with strawberry Makkah creates a connection directly inseparable. Both penetrate and create a very interesting scent. (05/05/2012 - Janette O.)

Have you tried one of our perfumes?
Let us know
how you like it!
You might also like