Khadlaj Nagham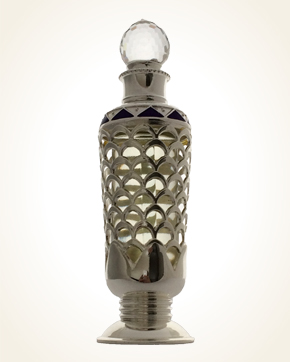 Khadlaj Nagham
Concentrated Perfume Oil 18 ml
In Stock
Concentrated Perfume Oil Sample 0.5 ml
In Stock
Description
Woody warm introduction leads us to softly flowing cedar and sandalwood echoes, pleasantly blending with deliciously served, creamy-sounding vanilla, which successfully secludes reflections of smoky dry vetiver.
Seductive gourmet chords let the candied fruit into the fragrant composition full of sweetened strawberries, cherries, whose excessive sweetness moderates bergamot.
Its floral fragrance is enhanced by the notes of Bulgarian rose and jasmine, swaying in the velvety bed of honey ambergris, which deepens the perfume with notes and enhances the sensual tone.

Customer Reviews (2)
Hello ladies, I would like to write my opinion on a few fragrances from the last order. KHADLAJ NAGHAM - juicy fruity aroma, cocktail of ripe sweet strawberries and cherries with delicious creamy vanilla. The sweetness of the aroma is moderated by the addition of bergamot and vetiver. Fragrance for spring days when the sun does not have the same strength as it was created. (3/29/2019 - Eva P.)

Hello Leni and Jani, so I made another order - it was not different :-) KHADLAJ NAGHAM - this oil I took last order only as a sample, I honestly did not even think of the composition that I took the whole package, but what waiting for me to apply ... I have no words. The smell is so beautifuláááá - a wooden vanilla and the stamina. I had to have it, I can't let it sell out to me :-) and I have to have KHADLAJ NASMA for summer, it is divine, summer, fruity, fresh, gorgeousaaaa. Thank you and I look forward to the next charge. Have a nice day. (2/13/2018 - Lenka G.)

Have you tried one of our perfumes?
Let us know
how you like it!
You might also like