Asgharali Habat Al Oud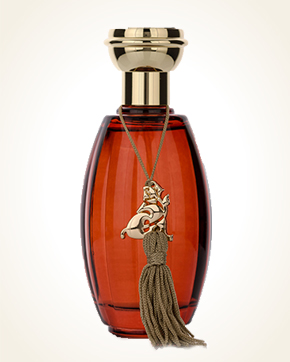 Asgharali Habat Al Oud
Eau de Parfum 120 ml
Out Of Stock
Eau de Parfum Sample 1 ml
In Stock
Description
The deeply seductive perfume Habat Al Oud is interwoven with a warm-sounding oud oil which, with its endless sensuality, vibrating chords blends in with spices, fruits and trees.
Touches of bittersweet saffron with undertones hidden in softly intimate skin, attracting delicious, red-ripe, sweetly melting raspberries, start the game.
The oriental, enticing, enticing connection of the Taif rose and oud oil represents a heady passion. Mystical oud oil shows its smooth narcotic note with barely noticeable haze of smoldering rare trees.
Warm chords also offer a spicy-tied Oriental spice, complemented by vanilla seduction and herbal earthy patchouli, evoking a dreamy atmosphere.
The perfect interplay of honey-soft, sovereign ambergris with the woody softness of sandalwood and the delicate fluffiness of the stinging musk finishes the scent.

Customer Reviews (3)
Once again a big thank you for everything, my treasures already have their place of honor in my collection of your perfumes, and I shudder over Habat Al Oud. Finally I own this gem and I am happy! I totally failed! True love does not need words, so I will only describe its beauty in the words of the Italian painter Carlotti, who defined beauty by saying that it is a collection of parts that work together so that there is no need to add, remove or change anything. Needless to say, I have no words, although the Czech is sufficiently colorful and flowery. It's just perfection itself and I'm in love !!! (10/18/2019 - Lenka S.)

Hello Mrs. Lenko, I test Habat Al Oud and I can go crazy! The smell makes me cold, it's a liquefied passion! A superbly breathtaking, breath-taking relative mentioned by Rane. This is the perfume I've been looking for for years! This is my desired signature, my second skin! I fell in love with so many beautiful perfumes, but I postponed virtually everyone after a while because I found even better, or just didn't fit the weather or occasion. Only Sharina can keep me company anytime, anywhere. Habat Al Oud is a masterpiece that is perfect for any weather (it was a terrible winter and we got the summer back yesterday) and for any occasion. It contains everything I love - depth, mystery, uniqueness, but also a drop of freshness so that it does not look too flashy ... for the first time in all this time I have no words to praise the splendor enough and merit. Even so, I scribbled more than I intended ... This is an unforgettable, breathtaking fragrance that can't leave anyone cool !!! (14/10/2019 - Lenka S.)

My joy does not end - HABAT AL OUD reminded me of Rawan and Rane! I am excited, I have been looking for such a heavily saturated aroma of intoxicating sandalwood and sweet oud for a long time. And Habat Al Oud fulfills it all the way. The fragrance certainly arose for a long time, it had to mature - to change. It's warm, it's a mosaic of the Orient. It is the essence of the sun, its silk and heat. Thank you, thank you, thank you. With Habat Al Oud, I recall memories of the past beauty, no longer produced fragrances, but at the same time I tremble from the newly discovered treasure. Your whole scented customer (23.9.2019 - Renata Š.)

Have you tried one of our perfumes?
Let us know
how you like it!
You might also like